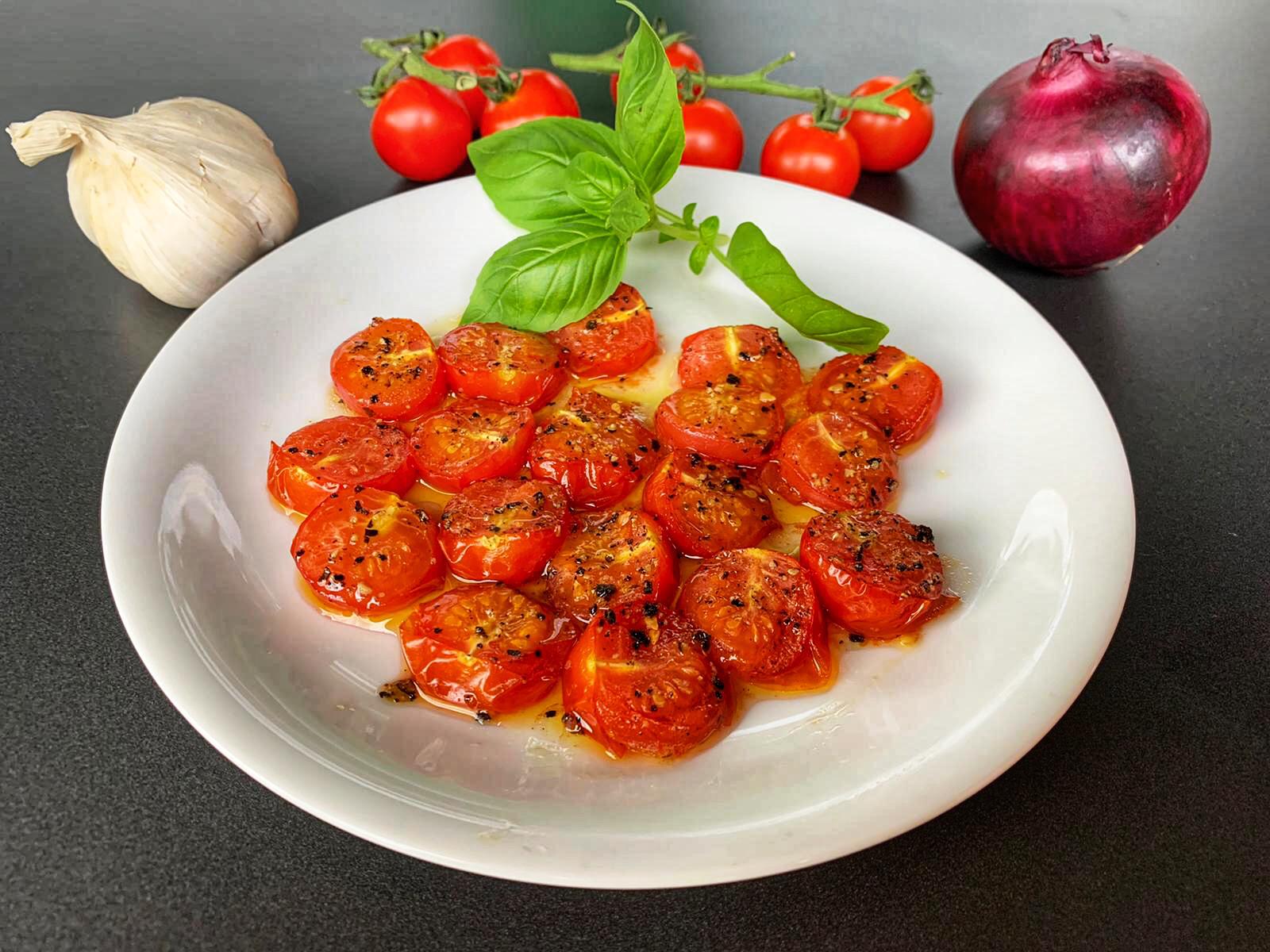 Pizza Sauce & Pizza Topping Recipes
Here you'll find inspiration for different pizza sauces and other pizza toppings
One of my favorite pizzas is certainly the Pizza Margherita with classic tomato sauce, mozzarella and basil, but sometimes you just want to try out something completely new. There are so many ways to garnish your pizza with great different sauces and pizza toppings. On this page you find a collection of new pizza toppings for your inspiration.
---
Pizza Tomato Sauce
Whether Neapolitan or Roman pizza, my recipe for the tomato sauce is always the same. The recipe is very simple, because in my opinion the tomatoes already bring enough aroma and flavour.
I almost always use canned tomatoes, because the tomatoes are processed directly after harvesting and therefore still taste very aromatic. I prefer the peeled tomatoes (pomodori pelati) because I like the consistency better than e.g. with the chopped tomatoes.
The quality of the tomatoes play a major role in how the sauce is going to taste like. My favourite tomatoes are San Marzano tomatoes, which grow at the foot of Mount Vesuvius in Naples and have a uniquely full-bodied aroma. However, their price is also comparatively high. Apart from San Marzano tomatoes, I can also recommend Gustarosso or Mutti tomatoes. Otherwise, I find all the other brands, even the own brands from the supermarkets, perfectly fine.
In addition, I also use a food mill to get a fine and even tomato sauce. You can also squeeze the tomatoes by hand, but that'll lead to somewhat larger pieces in the sauce.
Ingredients (for six pizzas)
1 tin of tomatoes (400 gr)
1/2 tsp salt
Optional: a few basil leaves
Optional: a dash of olive oil
Instructions
Put the tomatoes in the passie grinder and grind all the tomatoes (I always use the coarsest filter).
Add salt and season to taste. I prefer to use less salt at first, but you can always add more.
Optional: shred a few basil leaves with your hands and add a dash of olive oil.
This will keep in the refrigerator for about 5 days.
That's it! Now it's time to enjoy the pizza tomatoe sauce.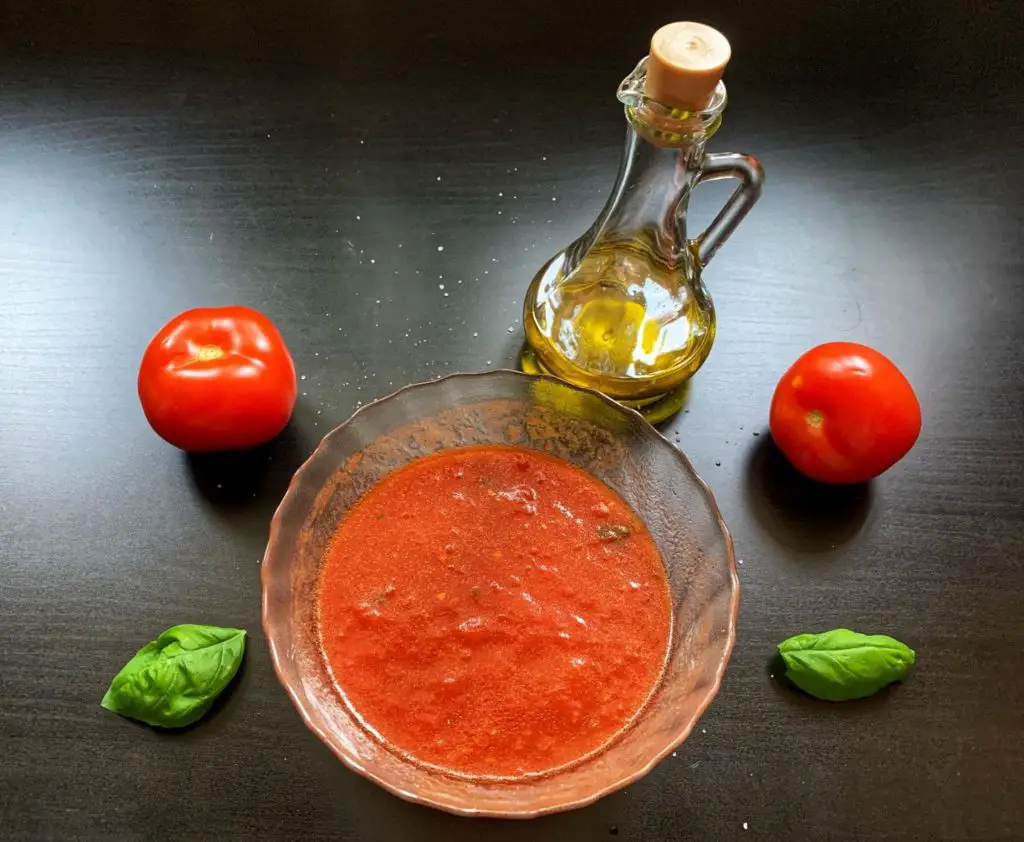 ---
Marinated Cherry Tomatoes
Marinated cherry tomatoes are an incredibly sophisticated ingredient for a pizza because they taste sweet and tart at the same time, giving the pizza that certain something!
Ingredients
50 gr cherry tomatoes
2 tbsp balsamic vinegar, dark
3 tbsp olive oil
2 tbsp brown sugar
Salt
Pepper
Instructions
Preheat oven to 180 degrees.
Cut cherry tomatoes into thin slices. Depending on the size, either halve them or cut them into three small slices. They should not be too thin, otherwise they can burn quickly in the oven.
Lay out tomato slices on a baking sheet. In such a way that they are not on top of each other.
Pour balsamic vinegar, olive oil and the brown sugar over the tomato slices.
Season with salt and pepper.
Bake tomatoes in the oven for 20 minutes.
That's it! Now it's time to enjoy the marinated cherry tomatoes.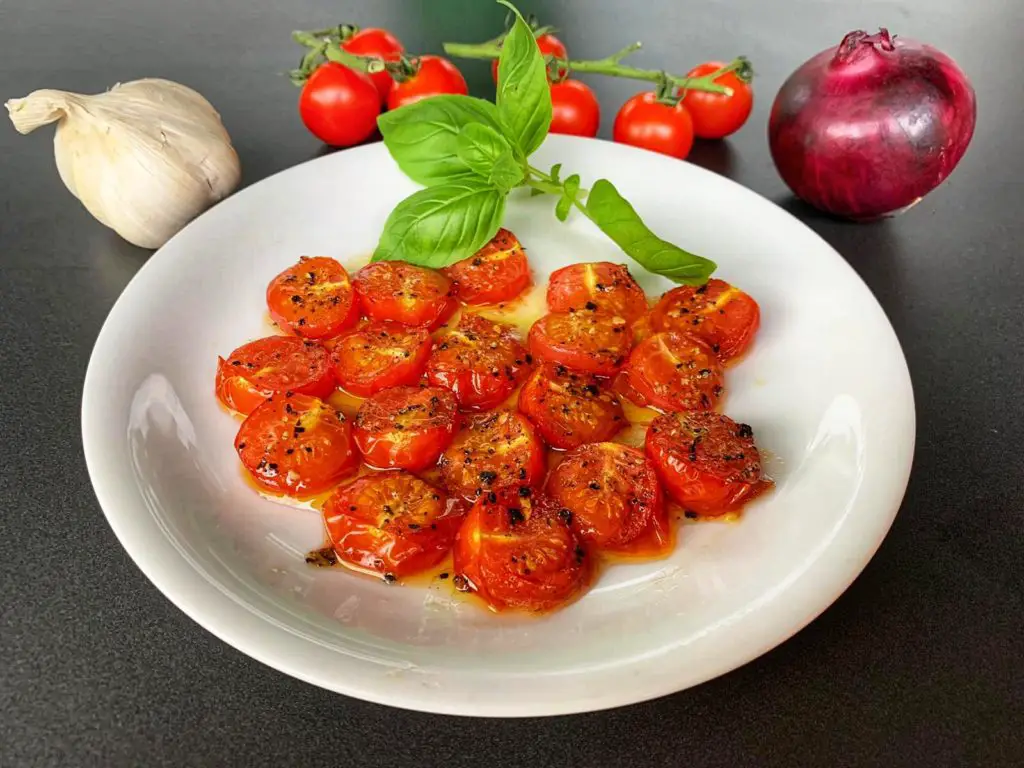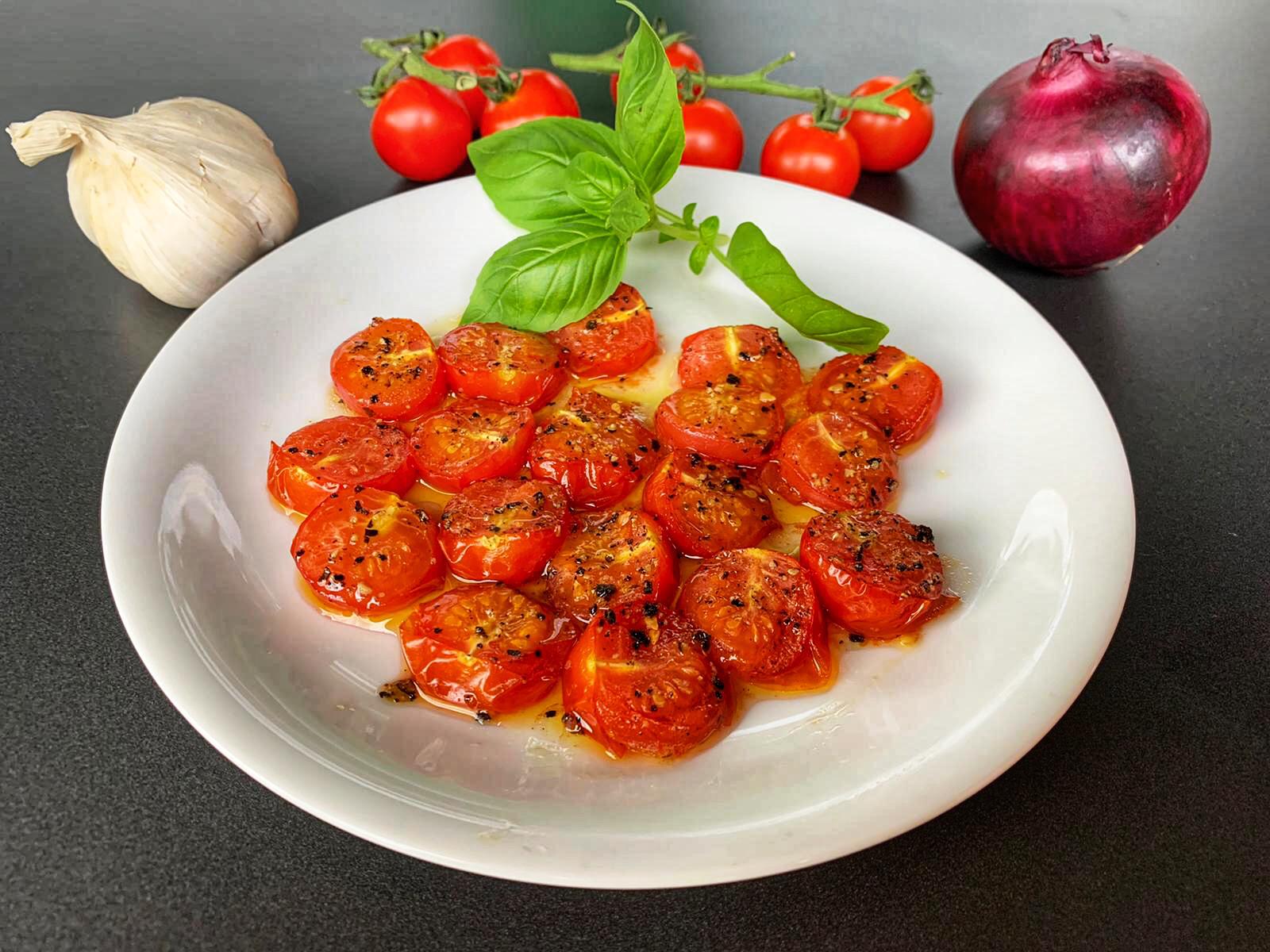 ---
Roasted Onion Cream
This delicious roasted onion cream is based on a recipe from Joe Beddia's book "Pizza Camp". The cream goes well together with e.g. broccoli and chili, as outlined here.
Ingredients for the cream
1 large Vidalia onion, or other sweet onion
1 cup of cream (200 gr)
Olive oil
Salt and pepper
3-7 Calabrian chillies, pickled in oil (or other chillies)
1 garlic clove
Instructions
Cut the onions into half rings.
Add the half onion rings to olive oil and season it with salt and pepper;
Lay them out on a baking sheet and bake them for 20 minutes.
Turn the onions and bake again for another 20 minutes and let it cool down a bit.
Put the onions and cream in a blender, season with salt and pepper and blend until you have a fine consistency.
This will keep in the refrigerator for about 5 days.
That's it! Now it's time to enjoy the roasted onion cream.
---
Roasted Mushroom Cream
The roasted mushroom cream also comes from Joe Beddias book "Pizza Camp"* and is one of my absolute favorite creams! The roasted mushrooms together with the onions and rosemary give the whole an incomparably intense flavor. In my opinion, this cream goes particularly well with pan pizzas such as a Roman Pan Pizza (Pizza in teglia).
Ingredients for the cream
250 gr mushrooms
3 tbsp. olive oil
2 sprigs of rosemary, finely chopped
1 medium red onion, roughly chopped
1 cup heavy cream (200 gr)
Fine sea salt and freshly ground pepper
Instructions
Preheat the oven to 230 degrees Celsius.
Toss the mushrooms with the olive oil, season with salt and pepper.
Spread them out on a baking sheet and roast for 20 – 25 minutes or until they lose their water and wrinkle a bit.
Place the mushrooms with their juices, rosemary, onion, and cream in a food processor or blender. Purée until there are no big chunks or pieces, but don't go to far or you'll have butter. It should be smooth and spreadable.
Taste and adjust the seasonings as desired.
This will keep in the refrigerator for about 5 days.
That's it! Now it's time to enjoy the roasted mushroom cream.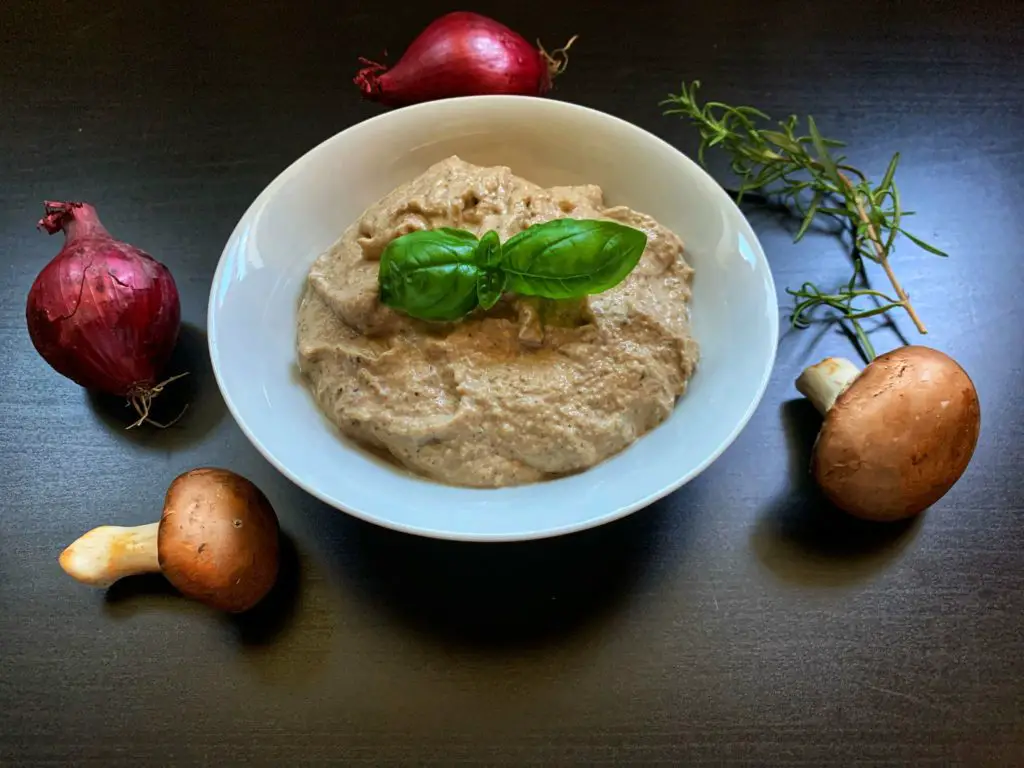 ---
Vodka Sauce
You're probably thinking: "What, alcohol in the sauce and even vodka?" That sounds wilder than it is. Alcohol has the ability to pump up the flavours of other ingredients , and voka proves this is so in this recipe. But don't worry, the vodka completely cooks off in this recipe and you absolutely won't taste it!
Ingredients
1 tbsp unsalted butter
1 medium red onion, finely chopped
1/2 tsp hot red pepper flakes
2 tbsp vodka
1 can crushed tomatoes à 400 gr
2 tbsp soy sauce
1/2 cup heavy cream (100 gr)
Instructions
Melt the butter in a medium saucepan over medium heat.
Add the red onion and cover. Cook, stirring occacionally, until the onion is tender and translucent but not browned, about 5 minutes.
Stir in the hot red chilli pepper flakes.
Add the vodka, allowing the heat of the saucepan to create a burst of steam and cook off the alcohol. Stir in the tomatoes and soy sauce and bring to a boil over high heat. Reduce the heat to medium-low and cook at a steady simmer until slightly reduced, 10 to 15 minutes. During the last 5 minutes, stir in the cream. Remove from the heat and let cool completely.
Using a hand blender, purée the sauce int the saucepan (or purée it in a blender).
This will keep in the refrigerator for about 3 days.
That's it! Now it's time to enjoy the vodka sauce.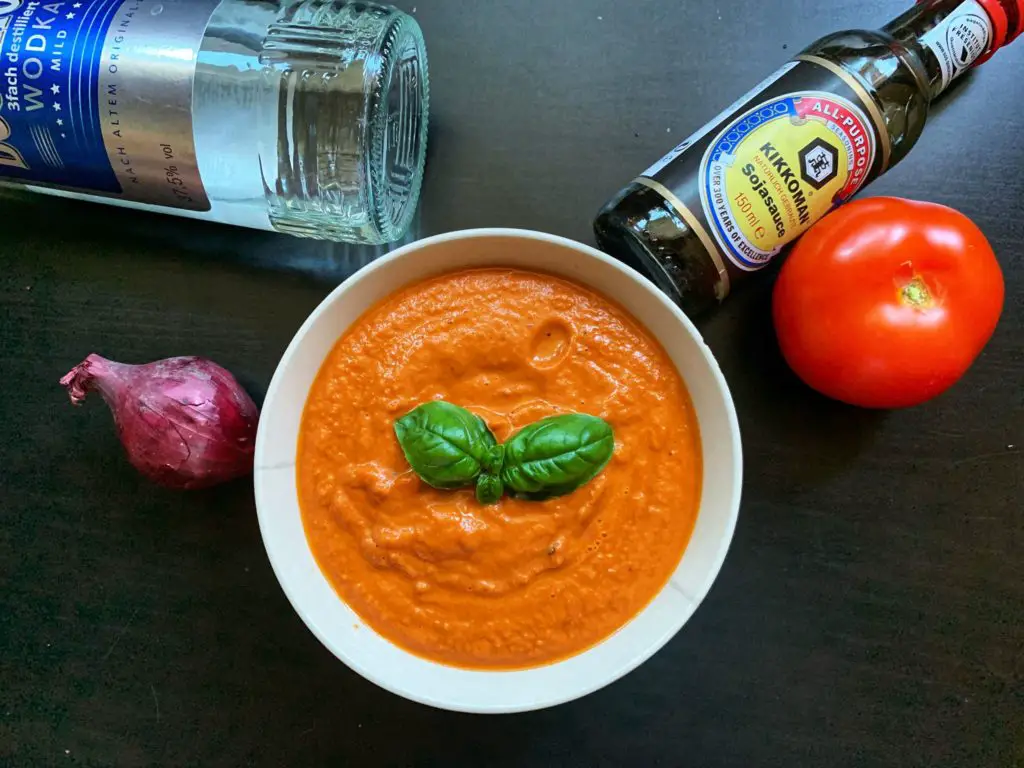 ---
You'd like to start making pizza right away – but you're wondering what equipment you might need? Make sure to check out the Pizza Equipment page!