We're often asked the question "which pizza oven is the best for making pizza at home". This is not so easy to answer because it depends on various factors, such as available space, power sources (electricity, gas, wood or coal) and also the budget. For this reason, we'll show you an overview of the different types of pizza ovens and how to find the right one in this article. By pizza ovens we are talking about ovens that can reach a baking temperature of at least 400 degrees.
Household oven
Yes, you're reading that correctly. You can make pizza with an household oven, as it doesn't always have to be a pizza oven. The question should rather be what kind of pizza you want to bake.
A conventional household oven can reach a maximum temperature of about 270 degrees (exceptions apply). A traditional Neapolitan pizza with a fluffy, airy crust and foldable base is baked at 400 – 500 degrees Celsius and only needs 60 – 90 seconds of baking time. Therefore, it will be difficult to bake such a Neapolitan pizza in a household oven. Of course, you can still bake a Neapolitan pizza in a household oven, but you should keep in mind that this pizza will be much crispier because it will need to be baked longer (for more details on the topic of oven temperature and pizza, see here).
Many pan pizzas, on the other hand, such as a Roman pan pizza (Pizza in Teglia), the Detroit style pizza or even a New York style pizza can be baked very well at temperatures of 250 – 270 degrees Celsius. Therefore, these types of pizzas can easily be baked in the household oven. In addition, it is worthwhile to obtain additional equipment that will allow the heat to be optimally used in a household oven. I always recommend using a pizza stone or a pizza steel for the home oven. Although this increases the heating time of the oven, the stone or the steel can store the heat longer and transfer it better to the dough, so you get a crispier pizza as a result and the baking time is also shorter overall.
Temperature: Up to 270 degrees (Celsius)
Suitable for: Pan pizzas or crispier pizzas
Advantage: No additional purchase cost
Disadvantage: Limited for certain styles of pizza (e.g. Neapolitan pizza)
Cost: No purchase cost or if so, only a small additional cost if you want to get a pizza stone or pizza steel, about 50 – 80 euros.
Electric pizza oven
The name electric pizza oven actually says it all: a pizza oven that runs on electricity. You don't need to worry about whether you need a special power connection for this. Just plug it into a regular outlet and let the fun begin! Depending on the model, the ovens can reach up to 550 degrees Celsius. So it's perfect for baking a Neapolitan style pizza in it without any problems.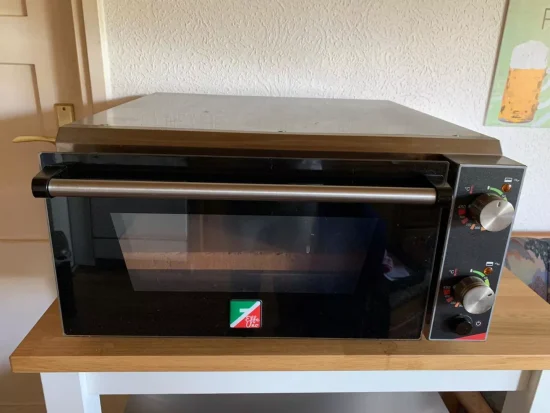 I myself started my pizza hobby with an electric pizza oven and I am still a big fan of electric pizza ovens. Why? For several reasons.
On the one hand it is relatively easy to operate, as the desired temperature can be set exactly and requires hardly any supervision, unlike the wood-powered variants, where you always have to check whether there is enough wood in the oven and the temperature is still high enough. The heating time is about 1 hour. Another special feature is therefore that the baking results in the electric oven are very reliable and predictable. It is possible to bake wonderful Neapolitan pizzas at 400 degrees, but also very well other styles of pizza such as pan pizzas, Pinsa Romana, Focaccia, New York style pizzas, even bread or baguette at lower temperatures.
Furthermore, an additional advantage becomes apparent when it's cold outside: wood, gas or even the hybrid stoves may only be used outdoors for safety reasons. This can be uncomfortable in bad weather conditions such as wind, rain, snow, sub-zero temperatures, etc., or it can also affect the heat output. An electric oven, on the other hand, can always be used at home.
Besides all the euphoria, there are a few points to consider that can be regarded as a disadvantage. With an electric pizza oven, you are unfortunately no longer mobile because these ovens are usually rather large and bulky and need a power source. Also, in the summer, when the temperature in the apartment/house rises uncomfortably, this pizza will make it even hotter inside. Compared to an outdoor oven, where you use flames to bake the pizzas, the baking experience isn't quite as exciting either, because ultimately all you have to do is adjust the temperature.
Temperature: Up to 550 degrees (depending on model)
Suitable for: All pizza styles
Advantage: Versatile, easy to use, consistent and reliable pizza results
Disadvantage: Space-consuming (rather large and bulky), not mobile
Cost: From 500 euros upwards (for models from 450 degrees baking temperature)
Gas pizza oven
The biggest advantage of gas-powered pizza ovens is that they are much more mobile than alternative products and as long as you have the gas cartridge at hand, you can operate them anywhere. Depending on the model, a gas-powered pizza oven is super easy to take to your next garden party or use outdoors. They're also great for beginners, as the temperature can be easily adjusted via the controller, unlike a wood-fired oven.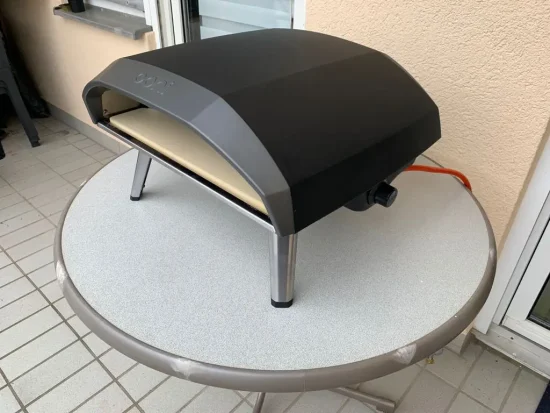 One popular oven is the Ooni Koda 16, which I've covered in detail here. Ooni models can easily reach up to 500 degrees, so Neapolitan pizzas can be baked in it within seconds. But because of the easy temperature control, it's also very easy to bake other styles of pizza like New York Style Pizza. Pan pizzas like the Detroit Style Pizza can also be baked in it, but you need a little more experience to achieve an even temperature despite the flames.
One disadvantage, similar to wood-burning ovens, is that the flames can be a bit temperamental and thus the baking results are not always 100% predictable. You should therefore not let the pizza out of your sight while baking and rather turn it a little more often so that it is baked evenly.
Temperature: Up to 500 degrees
Suitable for: All pizza styles
Advantage: easy to use, uniform and reliable pizza results, mobile usage
Disadvantage: can only be used outdoors, gas cartridge must be available
Cost: from 349€ (e.g. Ooni Koda 12)
Learn more: If you want to learn more about the Ooni Koda 16, make sure to check out my in-depth review here.
Hybrid pizza oven
Hybrid or multifuel pizza ovens can be powered by different sources. Outdoor ovens like the Ooni Karu 16 or 12 can be powered by gas, wood and coal. This provides maximum flexibility when it comes to baking preferences and the fun factor. The Ooni Karu 16/12 allows you to quickly switch from gas to wood/charcoal operation with the different adapters.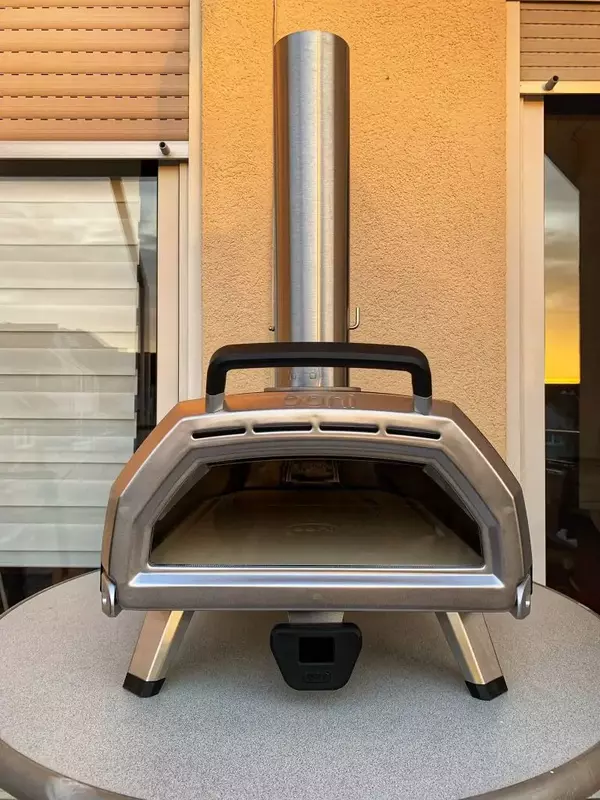 The pizza baking is particularly fun with these ovens in my opinion, because you are more involved than with e.g. an electric oven. You watch the temperature more closely, add wood/charcoal again or just stare into the flames! 🙂 For the baking experience alone, I'm a big fan of these ovens!
However, since the flames can be somewhat unbridled, the results are not always entirely predictable when baking. With a little experience, however, you'll get the hang of it relatively quickly and get a feeling for how big the flames should be for optimal results. Baking with wood or charcoal also requires more attention from the pizza maker, as you always have to keep an eye on the temperature development and be there to add wood or charcoal, or even wait if the flames are too big – these cannot be regulated automatically compared to gas operation.
Temperature: Up to 500 degrees
Suitable for: All pizza styles
Advantages: Flexibility due to the different power sources (gas, wood, coal), great fun factor when baking pizzas
Disadvantages: can only be used outdoors, gas cartridge must be available; with wood or coal, more care is needed when developing heat
Cost: from €349 (e.g. Ooni Karu 12)
Learn more: If you want to learn more about the Ooni Karu 16, make sure to check out my in-depth review here.
How do I find the right oven for me?
As mentioned at the beginning, the choice of the right oven depends on various factors such as pizza preferences, space in the apartment or house and the willingness to pay.
You can't go wrong with an electric pizza oven, as it is easy to use, it delivers reliable pizza results, and on top of that, all kinds of pizza styles can be baked in it without any problems. Especially beginners and also people without a balcony/garden/terrace I would therefore advise to use an electric pizza oven.
For those who have the possibility to bake outdoors at home, I would recommend the Ooni Koda 16 as an alternative, because you can achieve great pizza results in an easy way and the fun factor of baking pizza with fire does not fall by the wayside.
The ovens I use
By now I own pizza ovens from all the categories listed:
"Which oven do you prefer to use?" one or the other may ask at this point. To this, I can only say that it really depends: Is it cold and stormy outside and I feel like pizza? Then I plug in the Effeuno. If I want to bake pizza outdoors or at a garden party at a friend's house, then I take the Ooni Koda 16. If I want the maximum fun factor and watch the flames heat up the oven, then I fire up the Karu 16!
Discover more
You'd like to start making pizza right away, but you're wondering where to start? We have summarized the most important information on the following page for you.
Thanks for reading! I hope this article about the various pizza ovens was valuable to you. If you have any unanswered questions, feel free to let me know in the comments. I'd appreciate it if you could share this article with your friends.
Julia