After baking Neapolitan and Roman pizzas for quite some time now, I started to broaden my pizza horizons a few months ago and got more involved with American-style pizza. For example, I documented my experience with Detroit Style Pizza here. What do you do to familiarize yourself with a new topic? That's right, you order a few books first! In this post, I'll introduce you to three books that have helped me better understand American-style pizzas.
American Pie by Peter Reinhart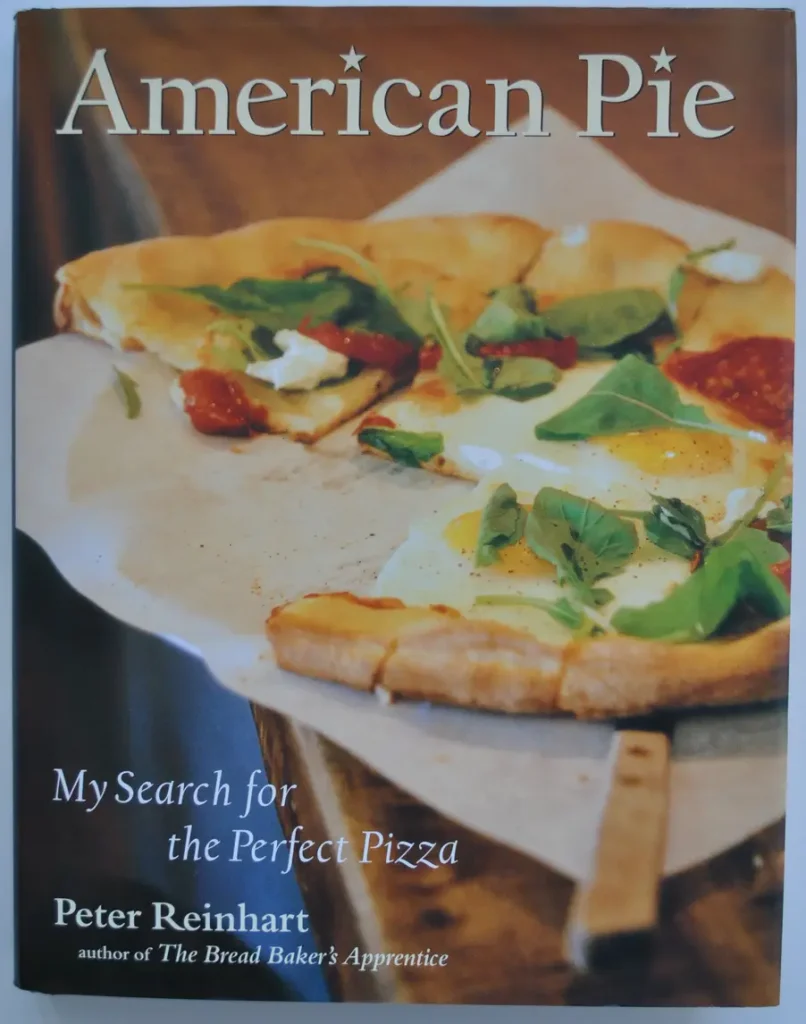 The book "American Pie" by Peter Reinhart has the subtitle "My Search for the Perfect Pizza" and the name definitely says it all. Quite untypically for a cookbook, the first part of the book is not about recipes, but about the search for the perfect pizza. Peter Reinhart calls this chapter "The Hunt" and describes here in detail his travels through Italy, e.g. Liguria, Naples, Rome as well as different stations in the USA and tells personal stories, which he embellishes with interesting background information. The perfect pizza does not exist, of course, and according to his theory, which he explains in conclusion, it is, among other things, a subjective question that is above all fraught with emotion.
In the second part, Peter presents the dough recipes based on the experiences of his travels and provides a very large selection of topping ideas. I have not yet tested all the recipes, but what I have seen so far has definitely convinced me! He picks up on a variety of styles with his recipes, such as the traditional Neapolitan Margherita, but also the New York Style, Pizza Americana, San Franscisco Sourdough Pizza, and Chicao Deep Dish, just to name a few. He concludes these recipes and topping ideas with various tips on methodology or how to match different toppings.
Rather unpractical: The recipes do not come with weight instructions, which we typically know from cookbooks, but in volumes ("cup", "tablespoon" etc), hence it involves quite some converting efforts.
Conclusion
It's a great book, especially if you are not only interested in the recipes, but also want to hear stories of various pizzaioli and understand the origin of his recipes and pizzas. I personally found the first part of the book to be a bit too lengthy and in some cases too detailed. One should also be aware that the book is rather text-heavy and contains few pictures (and they are then unfortunately only black and white). However, the recipes are impeccable!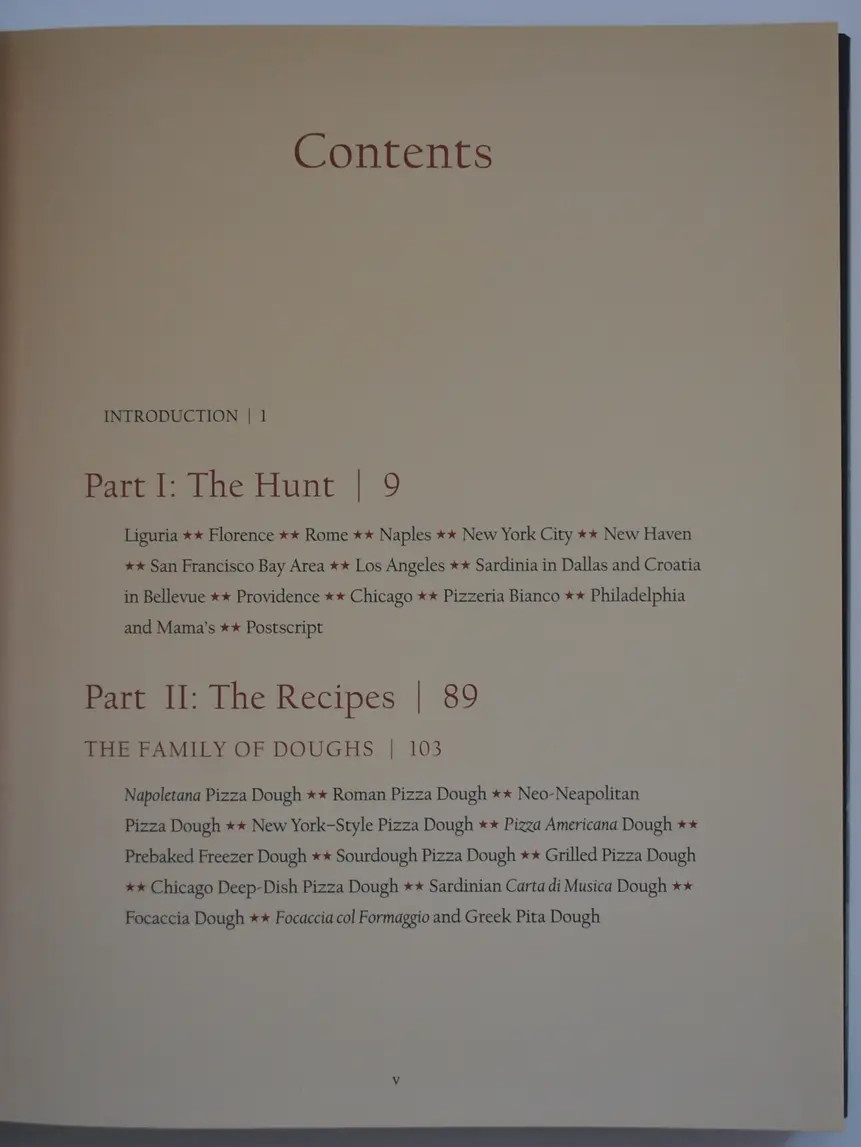 Author: Peter Reinhart
Year of publication: 2003
Language: English
More details: American Pie by Peter Reinhart*
Perfect Pan Pizza by Peter Reinhart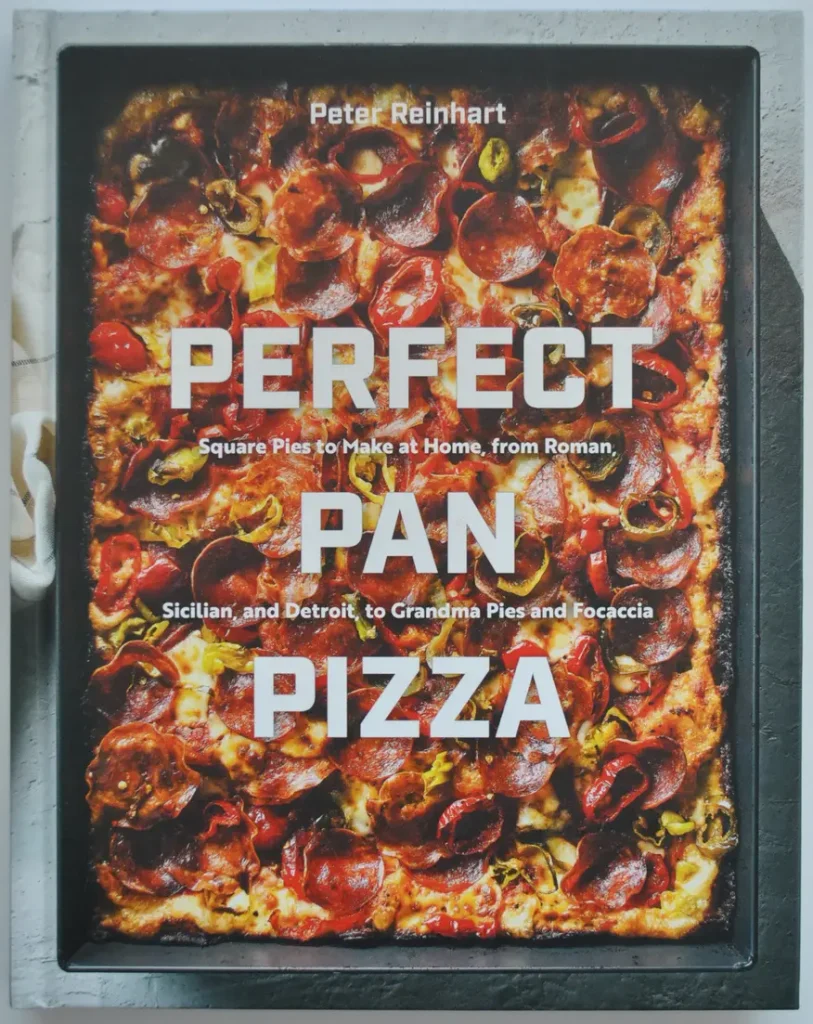 Another book by Peter Reinhart? Yup! Since "American Pie" is half a travel diary, I really wanted to read another book with a stronger focus on recipes and pan pizza in general. The great thing about the book is that it focuses purely on sheet pizzas. It highlights the main styles of sheet pizza: Detroit Style, Grandma, Sicilian Style, Focaccia, and Roman Pizza.
The very first thing that stands out is that this book comes with a lot more pictures than the first one and is also easier to digest in my eyes, especially if you are only interested in the recipes. It presents the reader with three dough recipes, based on wheat flour, whole wheat flour and a sourdough.
The dough recipes and technique are taught in a way that is easy to understand and simple to execute. For example, there are picture instructions for the "Stretch and Fold" technique (stretching and folding the dough) as well as the "Dimpling" technique (spreading the dough in the tray). He also goes into great detail, providing exact quantities (unlike the previous book), as well as interesting additional information and anecdotes.
Peter presents a lot of topping recipes and decorates them with appealing photos. Let's face it – we certainly won't try all the topping recipes presented, but having such a collection at hand is great for getting inspiration for new pizza variations.
Conclusion
If you want to get more involved with sheet pizzas, I think this book is a must read! If you want to start making pan pizzas, this is definitely a book I can recommend. Great details and no stone is left unturned! If you follow the instructions, you're sure to come out with a great sheet pizza.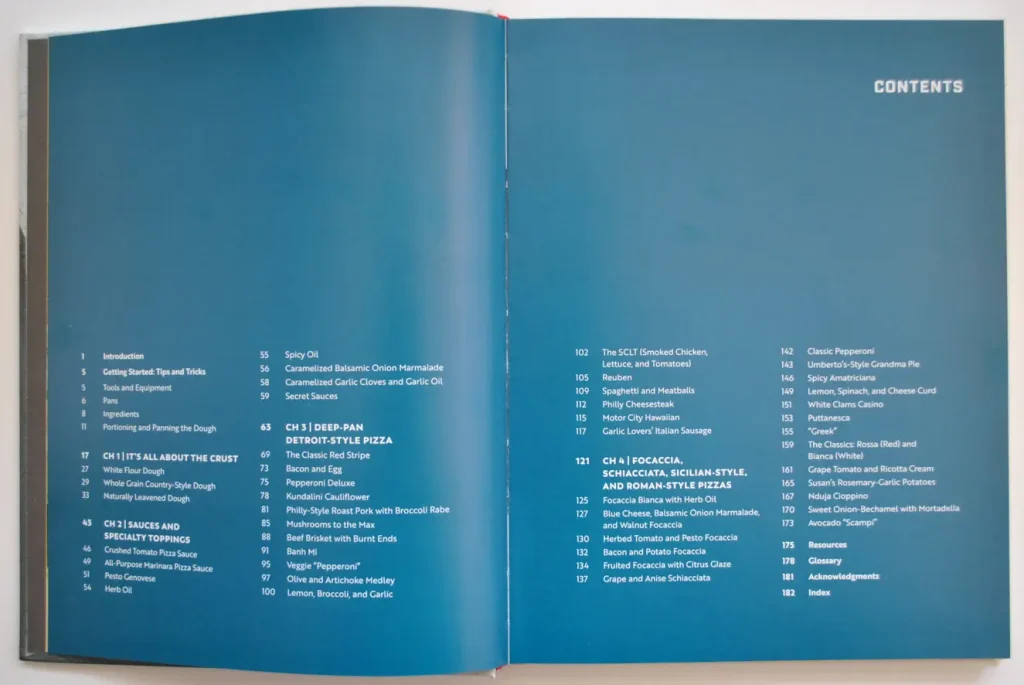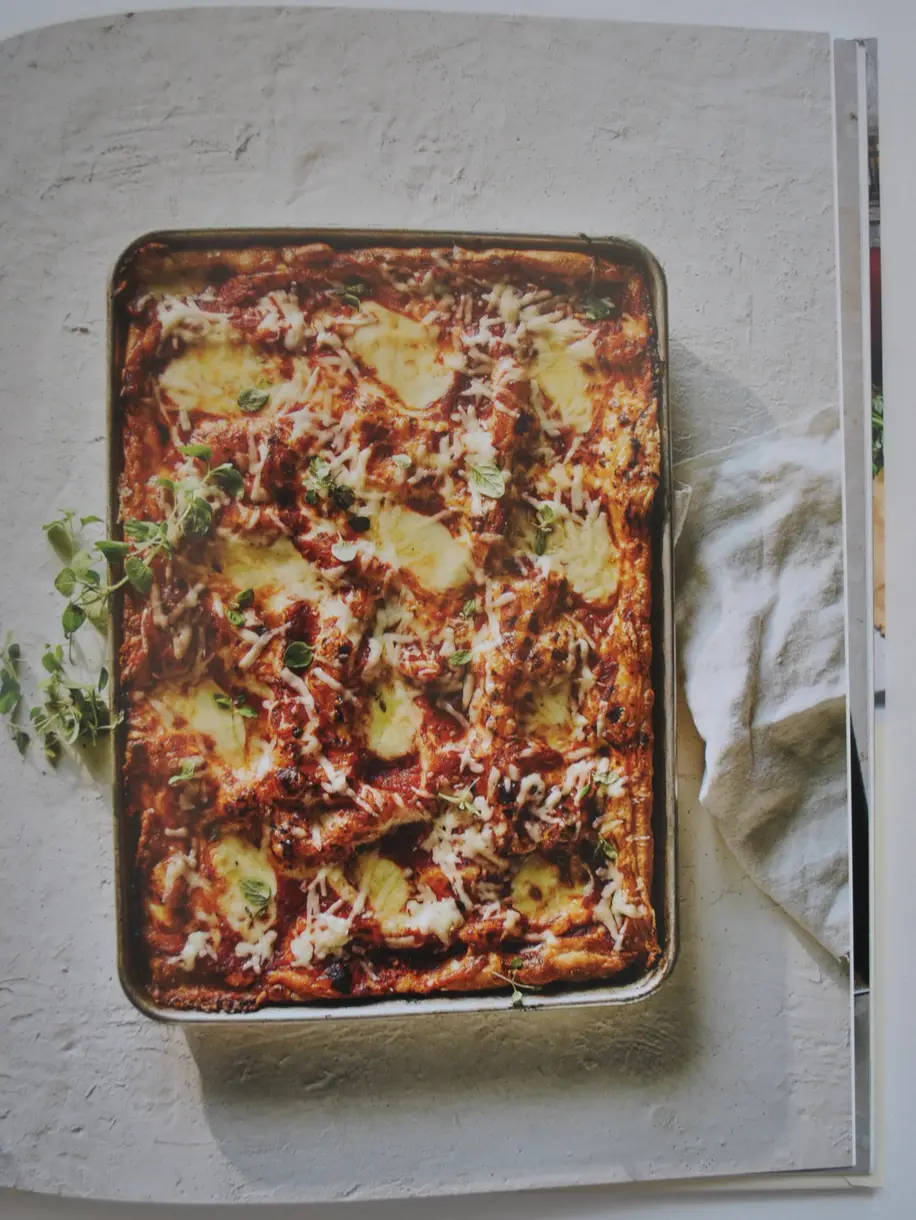 Author: Peter Reinhart
Year of publication: 2019
Language: English
More details: Perfect Pan Pizza by Peter Reinhart*
Pizza Czar by Anthony Falco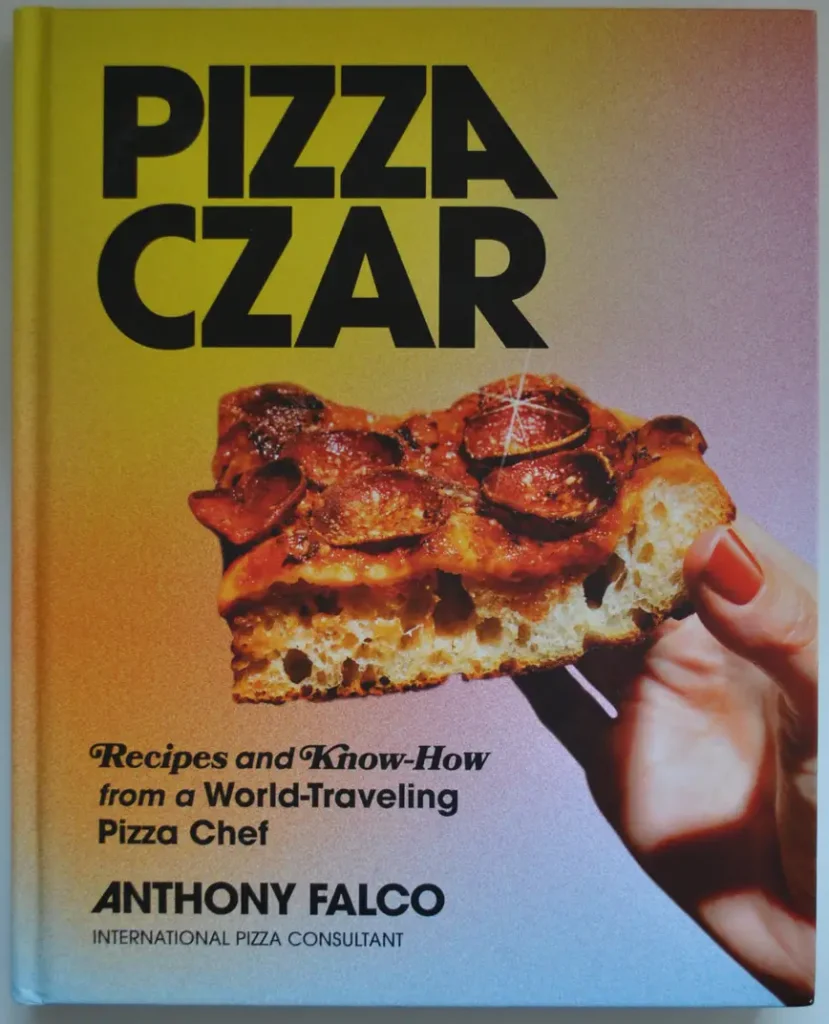 Pizza Czar by Anthony Falco is one of the newer books in my collection. Anthony Falco is a so-called pizza consultant and in this role advises pizza restaurants. So the expectations for the book were high! 🙂
What immediately stands out positively about this book is the design and beautiful visuals. Anthony does not exclusively describe pan pizzas in this book, but they definitely take up a large part of the book.
What I particularly appreciate about this book is the readability and personality of the text, instructions, anecdotes, explanations and, of course, the results of the recipes. And everything is provided with accurate instructions: What are the possible applications, what works for him and how can it be modified. As with the previous book, there are a variety of new and sometimes very exotic recipe and topping ideas, such as: fried garlic chips or pickled lime onion. There is even a subchapter called "controversial pizzas," which features a pineapple pizza or a Brazilian mashed potato pizza, among others.
What I find a pity about the dough recipes, however, is that all recipes start from a sourdough starter. For sourdough-experienced this may certainly be pleasing. For sourdough newcomers – and I count myself among them at the moment – this is aggravating, because you have to think for yourself how to adapt the recipes. However, Falco briefly explains at one point that you can replace the starter with a poolish or biga pre-dough.
Conclusion
"Pizza Czar" is a very visually appealing book with excellent pizza recipes. Ideal for those who have mastered the standards and are now in the mood for new, exotic pizzas. It is a very accessible book and is not "textbook" in nature, but much more entertaining. Those who are already experienced with sourdough will have no problems with the recipes. The rest, unfortunately, will have to deal with the subject a little more closely, since the recipes, without exception, start from a sourdough starter.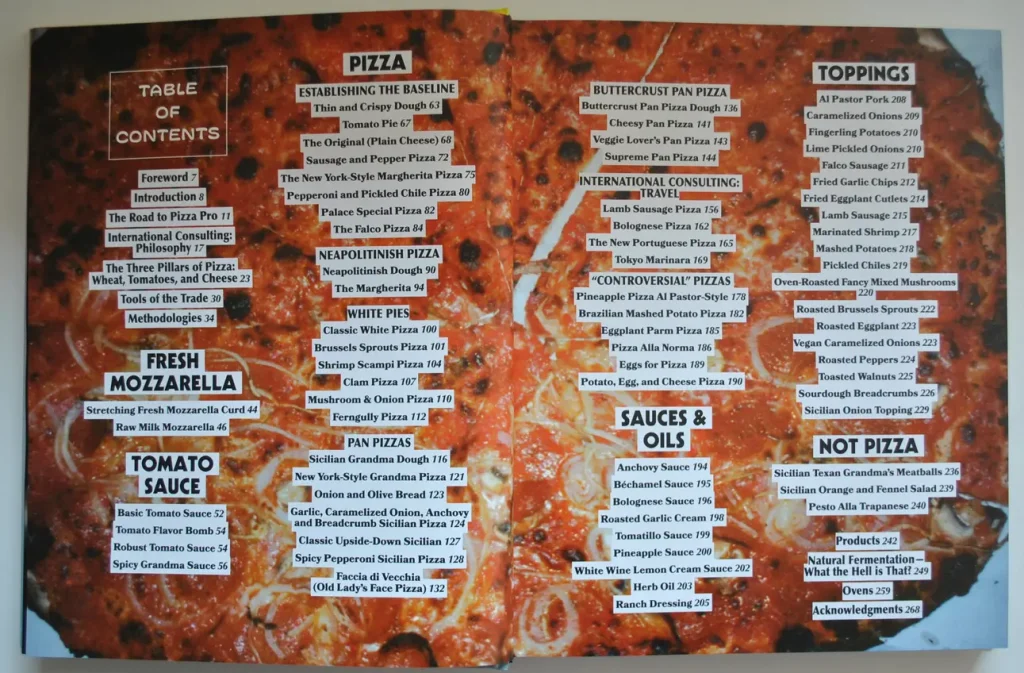 Author: Anthony Falco
Year of publication: 2021
Language: English
More details: Pizza Czar by Anthony Falco*
Concluding
Which of the books I would recommend clearly depends on where you are in your pizza journey and what you are looking for. If you want to get straight to the standard recipes without detours and dedicate yourself primarily to pan pizzas, then it's worth taking a look at Perfect Pan Pizza. If that's too boring for you and you'd rather expand the standard repertoire with exotic variations, you should take a closer look at Pizza Czar. If you want to read anecdotes from the world of pizzaioli as well as recipes, you should also take a look at American Pie.
Discover more
You'd like to start making pizza right away, but you're wondering where to start? We have summarized the most important information on the following page for you.
Thanks for reading! I hope my review of the American-style pizza books was valuable to you. If you have any unanswered questions, feel free to let me know in the comments. I'd appreciate it if you could share this article with your friends.
Julia