Some time ago I came across Nancy Silverton's pizza recipe from her book The Mozza Cookbook*. The pizza is quite different from the Neapolitan version, but still blew me away in terms of taste – or maybe even because of it!
Some of the ingredients are unusual, the water content is very high (~ 82%), and it is baked longer (~ 8 – 10 min) at a lower temperature (~ 260 degrees) compared to the classic Neapolitan pizza.
I found the result incredible: the bottom is paper-thin and crispy; the crust tastes almost like it is deep-fried, is crispy on the outside, but the crumb is soft and airy. It made me realize how in different ways a pizza can taste "good" – whether soft or crispy.
The practicality of the recipe is that you can eat the pizza the same day of making the dough because from the preparation of the dough to the baking of the pizza is less than 4 hours. For the preparation of the dough is also advantageous to have a kneading machine.
Ingredients
(for approx. 6 dough balls à 230 gr):
625 ml water (cold)
14 gr fresh yeast
740 gr wheat flour (with high protein content)
15 gr rye flour
7,5 gr wheat germ
7,5 gr barley malt or honey (clover, wild flowers)
22 gr salt
Olive oil for greasing
Mixing the dough
Here it should be noted that first a sponge is prepared, a kind of pre-fermented dough that actually comes from the field of bread baking (since these are Nancy's origins), and which is supposed to give more stability to the dough and more flavor to the pizza.
1. Preparing the Sponge
Pour 425 ml of water into a bowl.
Dissolve yeast in the water, wait a few minutes.
Add 370 gr of flour, rye flour and wheat germ.
Mix all ingredients together with a wooden spoon.
Cover bowl tightly with kitchen foil or lid.
Let rest at room temperature (about 20 degrees) for 1.5 hours.
2. Mixing the main dough
Pour 200 ml of water into the bowl of the kneading machine.
Add the barley malt.
Add the sponge.
Add 370 gr of flour.
Mix everything together on slow speed (about 3 min), it is best to help with a spoon so that no dry flour remains.
Add the salt.
Now knead the dough on medium speed for 6 – 8 min, until the dough separates from the sides of the bowl.
While kneading the dough, oil a bowl with a thin layer.
After kneading, place dough in oiled bowl.
Cover bowl again and let rest at room temperature for 45 min.
Then transfer dough to a floured work surface and fold inward on all four sides, one at a time, turn over and return to bowl.
Cover bowl and let rest again for 45 min.
Forming the dough balls
Flour the work surface.
Transfer dough from bowl to work surface.
Divide dough into six equal weight portions (~ 230 gr).
Gently fold the corners of the dough into each other.
Cover dough pieces with a clean kitchen towel and let rest for 5 min.
Flour hands and shape dough balls.
Transfer dough balls to a floured baking sheet and cover or place in a sealable box.
Let dough balls rise at room temperature for 1 hour.
Shaping, topping and baking the pizza
Preheat the oven to 260 degrees before baking.
Form dough pieces into e.g. Semolina and cover.
Brush edge with oil and sprinkle with a little coarse salt.
Place pizza on pizza peel* and put into oven.
Bake for about 8-10 min (until the edge is golden brown).
This is how the freshly baked Nancy Silverton pizza looks like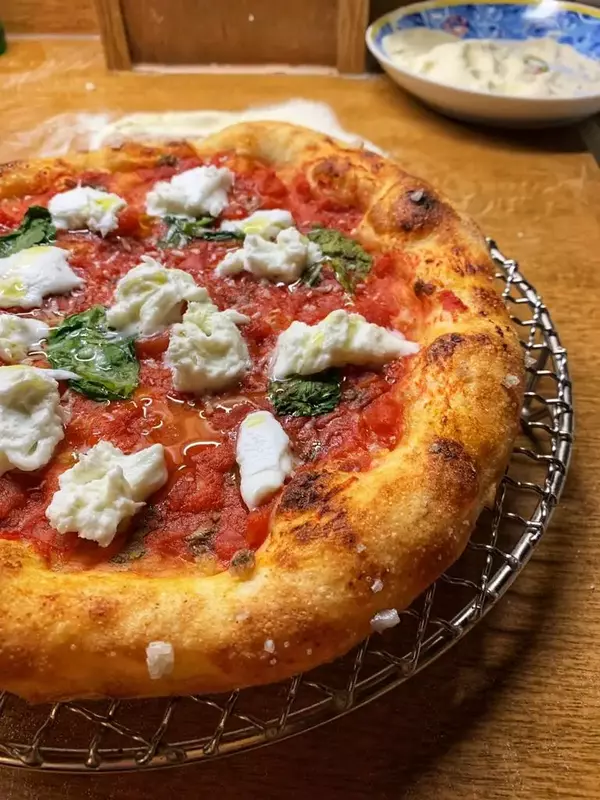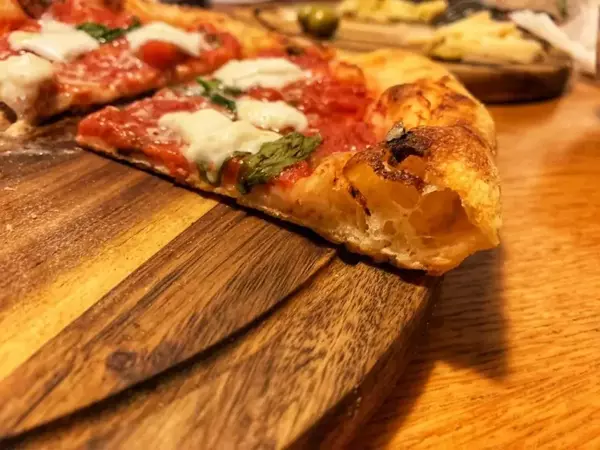 Discover more
You'd like to start making pizza right away, but you're wondering where to start? We have summarized the most important information on the following page for you.
Thanks for reading! I hope this article about the Nancy Silverton pizza recipe was valuable to you. If you have any unanswered questions, feel free to let me know in the comments. I'd appreciate it if you could share this article with your friends.
Julia