You want to eat a delicious pizza, but you don't want to spend a lot of time kneading the dough? Then I have just the right pizza recipe for you! Namely, the "No-Knead" pizza recipe from Jim Lahey's book My Pizza*. No-Knead means literally "without kneading" and in fact this recipe doesn't require any kneading at all! But it still results in a very tasty pizza.
Now you're probably thinking to yourself: that sounds almost too good to be true! To be fair, I have to say that it comes out in my opinion not as airy as a pizza where the dough was kneaded – but with the low work and force input I find that also completely justified!
For this recipe you should allow at least 24 hours. For those who are not in such a hurry, the dough can even rest in the fridge for up to 72 hours.
Ingredients
(for approx. 4 dough balls à 230 gr):
350 ml water (cold)
1 gr dry yeast (or 3 gr fresh yeast)
500 gr wheat flour (with high protein content)
16 gr salt
Mixing the dough
In a bowl, mix the flour, yeast and salt.
Add the water and with a wooden spoon or your hands mix all the ingredients well.
Now cover the dough with cling film / a damp kitchen towel or even better with a lid and let it rest for 18 hours at room temperature (about 22 degrees). The dough should approximately double in volume during this time. It will take longer in a cooler room, and correspondingly shorter in a warmer room.
You can see the before and after comparison of the dough below.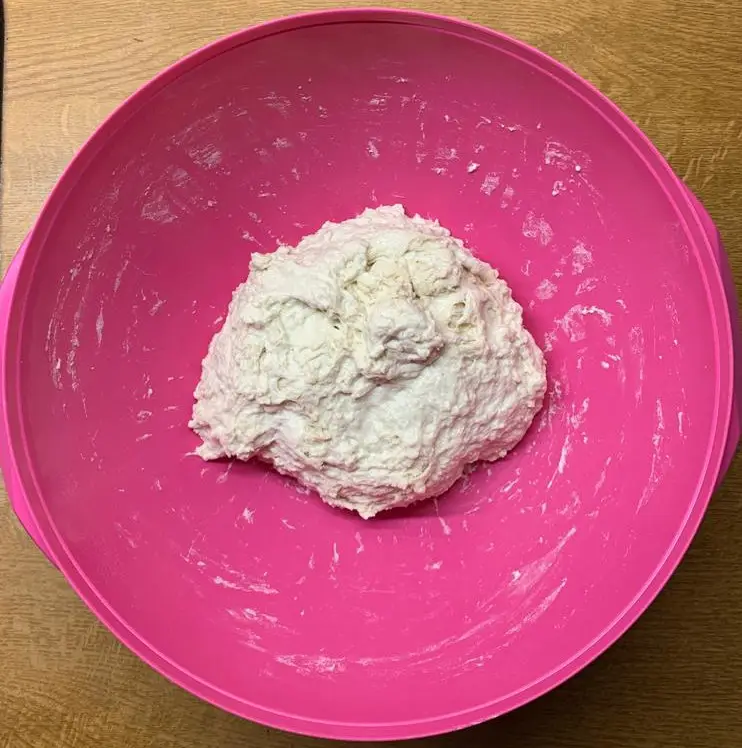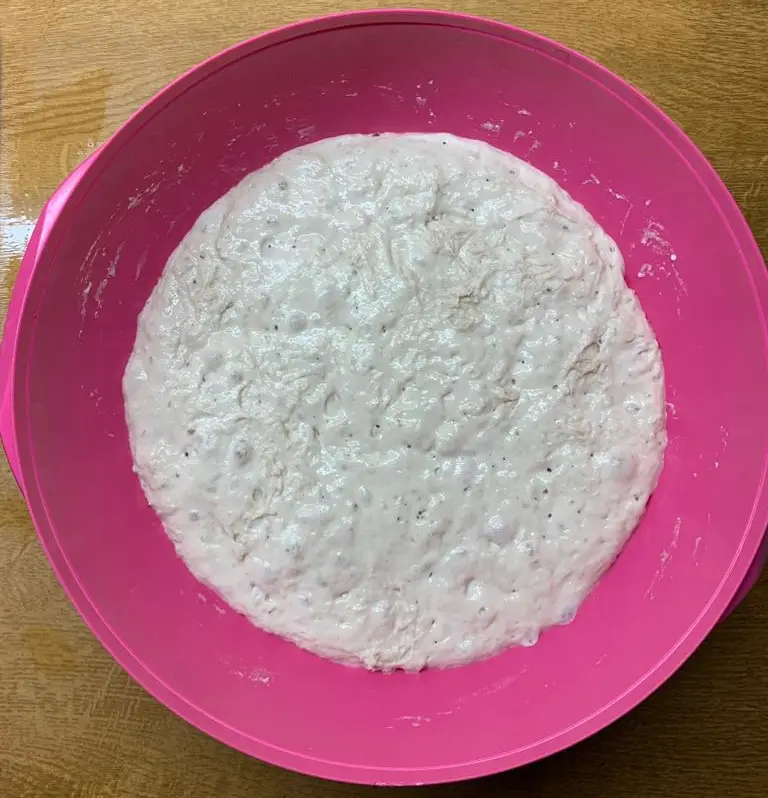 After the 18 hours, flour the work surface and transfer the dough from the bowl to the work surface.
Divide the dough into four equal portions and form into dough pieces. (You can see how to shape the dough in this video).
Resting the dough
Then place the dough balls in a sealable container (alternatively: place on a baking sheet with enough space between them, brush the dough with a little olive oil and cover with cling film) and let them rest for 3 hours at room temperature. After that they are ready to bake.
If you don't want to use them right away, you can leave them in the fridge for up to 3 days. Then let them rest at room temperature for about 1.5 hours before baking.
Shaping, topping and baking the pizza
Preheat the oven to 260 degrees. If you have a pizza stone*, it will be even better.
Prepare a bowl or a deep plate with semola (flour will work as well).
Sprinkle the dough with a little semola (especially on the edges) and take it out of the dough ball box* with a spatula*, put it in the bowl/plate with semola and turn it over.
Then place the dough ball on the work surface and shape it by hand: if possible, starting from the center, press the air bubbles towards the edge and shape it into a round pizza, leaving a rim. Do not use a rolling pin, as this will destroy the air bubbles.
Top the pizza.
Carefully pull the pizza onto the pizza peel. Pull again on pizza peel to form it into a round shape.
Place pizza in oven and bake for about 7 minutes (a little shorter or longer, depending on your own preference and degree of browning). Using a pizza stone can also shorten the time.
This is how the freshly baked No-knead Pizza looks like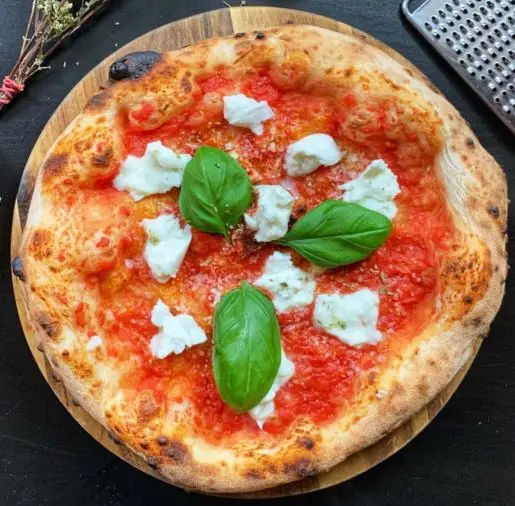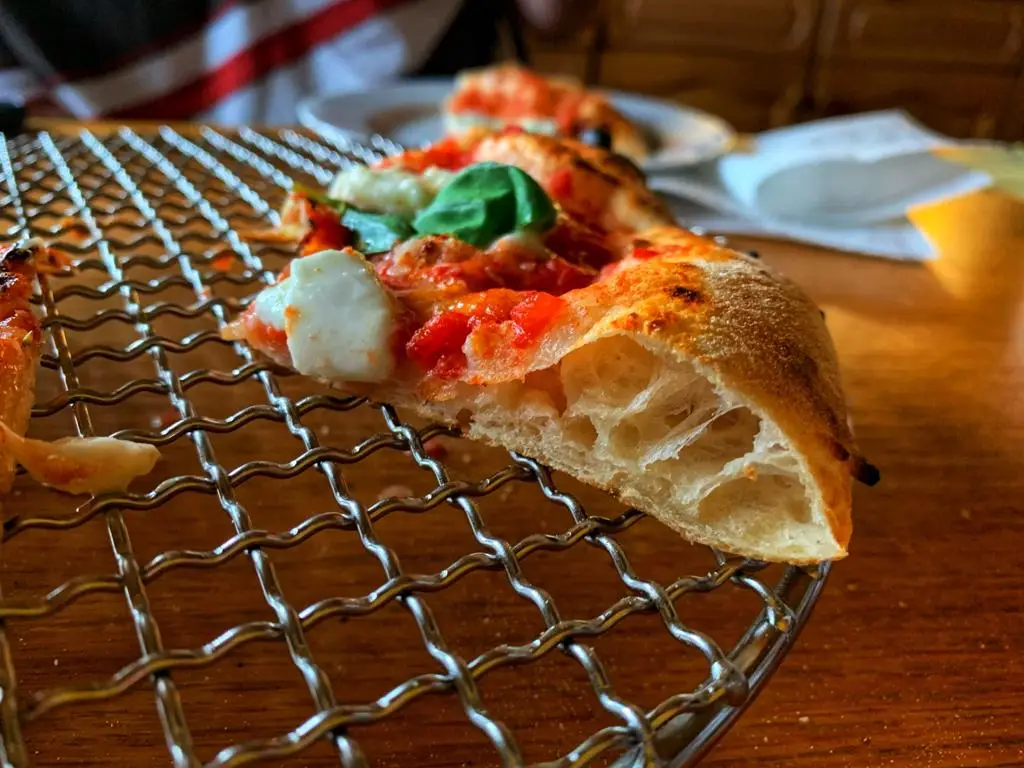 Discover more
You'd like to start making pizza right away, but you're wondering where to start? We have summarized the most important information on the following page for you.
Thanks for reading! I hope this article about the No-knead pizza recipe was valuable to you. If you have any unanswered questions, feel free to let me know in the comments. I'd appreciate it if you could share this article with your friends.
Julia